Ergonomic Office Chairs vs Gaming Chairs: The Ultimate Guide
Ergonomic Office Chairs vs Gaming Chairs: The Ultimate Buyers Guide
Introduction
CrimbleFest Furniture is proud to present our brand new home guide to help you make a decision between buying Ergonomic Office Chairs or Gaming Chairs for your Home Office / Study.
There are an increasing number of UK professionals who love to sit down and play video games and connect with players all around the world. In your free time there's nothing like grabbing your favourite beverage after a hard day of working from home and sitting down comfortably for an hour (or 3!)...in the same chair you just finished work on!*
*For this kind of usage we suggest you take regular sensible breaks.
To be very clear, as a gamer myself, I believe that the Ergonomic Office Chair is more ergonomic to a person's body and therefore better suited to sitting down for longer periods of time (again we recommend you stand up and leave your desks regularly). So yes I'll admit I have a bias but we'll be as fair as possible and give credit where it's due. We'll also let you know where the chairs are lacking, whether it's adjustment features or unhelpful design decisions.
In this guide we'll also attempt to find out which chair is best for dual task usage when both working from home and gaming. We'll review the features, stats and styles of each 'competitor'. Then we'll present the results and reveal what we believe to be the winner of the best overall chair.
We've researched in-depth on this subject to make sure only accurate opinions are used in this guide.
In the spirit of gaming this guide is written to read like a 1 vs 1 fighting game, yup, so it'll be best in class Gaming Chairs on the left and on the right the Teknik Quantum Office Chair, pound for pound the best Ergonomic Office Chair available today.
Round 1: Seat Quality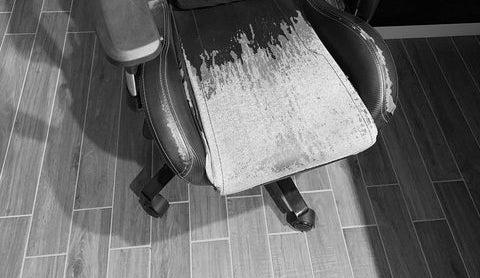 The seats of Gaming Chairs are generally not suited for prolonged use
Above: Gaming Chair upholstery starts to peel quite quickly when compared with the Mesh Seats of Ergonomic Office Chairs
Gaming Chairs
It has been reported that Gaming Chairs start to suffer from flat cushions and surface peeling at around the 6 month mark in the worst cases leaving the user feeling like they're sitting on wood or metal (Not very comfortable at all). Higher end gaming chairs use cold foam memory foam that holds its shape for longer.
The good:
Higher end options use quality cold foam memory foam in the seats that helps to hold it's shape for longer (It's the same foam as used in cinema seats for example)
Higher end options have gas lift height adjustment up and down
The bad:
Not breathable - leaves the user feeling 'sweaty'
Prone to surface peeling
Prone to memory foam seat flattening
Re-upholstery is an extra cost when worn out
A premature purchase of a new chair may be required
Raised seat lip can cause a numb feeling in the legs and feet
Most options have little to no seat adjustment
Quantum Ergonomic Office Chair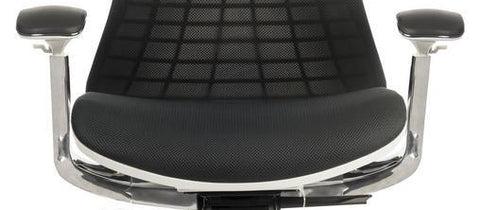 Quality breathable Ergonomic Mesh Seat
The seat uses high grade mesh that is breathable and gently shapes to your form meaning it's very comfortable.
The good:
Gentle waterfall front that is ergonomically shaped to prevent numbness in the legs - Aids circulation
Quality breathable mesh and soft padding that shapes to your form and holds it's shape
Seat slide to help fit your shape ergonomically
Seat height adjustment to help fit your shape
The bad:
We couldn't think of anything
Result: 1/0 to the Quantum Ergonomic Office Chair
Round 2: Back Support
Gaming Chairs typically wear out after 2-3 years
Above: Gaming Chair upholstery typically wears out between 2-3 years depending on usage
Gaming Chairs: There have been complaints from multiple sources reporting that the winged sides make you feel 'sweaty' and hold you in place which restricts your movement. Winged back sides add no benefit to a gaming chair and generally are not required on a seat unless it's in a moving vehicle (Such as a racing car where holding you in place is a necessity). Straps, lumbar cushion and a head cushion are used to adjust to the player's needs.
The good:
Fully recline feature on most models. For some users the ability to fully recline is a welcomed option
Looks good and feels like a racing car bucket seat which gives a more immersive experience if you play racing games
The bad:
Winged sides - leaves the user feeling 'sweaty' and restricts movement
Not breathable - Whilst some do offer two holes at the top they serve as functionality of the straps for the cushion and don't provide reliable ventilation
Most models do not have adjustable lumbar support built into the backrest and rely on cushions for support. The problem with that is some people prefer soft cushions and some prefer firm cushions. Unfortunately you get what you get.
In extreme cases the lumbar cushion forces your back into a position that can just as easily cause back problems than not having one at all
Most players remove the head and lumbar cushions for more comfort which brings into question the need for them
Many Gamers buy extra cushions and ergonomic aids which is another cost
Many gaming chairs on the market look identical just with different brand logos embroidered on the back
Low quality stitching is often used to lower item manufacturing costs and PU surfaces peel and flake over time (Which looks terrible if you're a 'YouTuber')
Quantum Ergonomic Office Chair: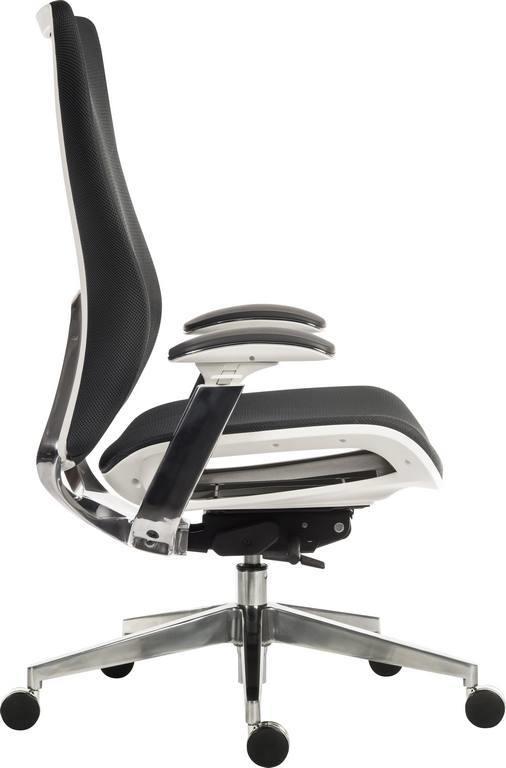 Ergonomic shaped high back soft mesh features
The back support is made using a strong flexible mesh that contours to the body and creates the perfect breathable cushion for the lumbar spine. You will not feel restricted or 'sweaty' on your back when you lean back to relax. In our opinion a mesh back office chair will allow for a more immersive gaming experience as you wont keep being distracted or have to keep making constant adjustments of your body position nor will you feel hot and restricted. After all, if it feels like your seat conforms to your body in a gentle, ergonomic way you can get easily pulled in to enjoy your gaming session much more, just like how you'd feel sitting on your comfy sofa watching a riveting film.
The good:
Strong flexible breathable mesh back that conforms to the natural curvature of your spine and maintains that posture
Evenly distributes the load bearing of the discs of your spine (Feeling natural is good)
Keeps your shoulders back in the correct position effortlessly (Improves posture and relieves back and neck pain)
Looks good and helps to transform your work/play space into a modern, futuristic room whilst retaining a professional look for visitors
The ergonomic shape allows for a more immersive experience if you play all kinds of games
On the work front you have precise back adjustments to ensure the most comfortable seating experience for you, allowing a greater focus on job tasks
Easier to wipe clean than fabric upholstered chairs
The bad:
Less choice of design options
Doesn't allow for the logos or brands of your choice to be embroidered
No built in lights (If that's your thing. If you're reading this then most likely it isn't)
Result: 2/0 to the Quantum Ergonomic Office Chair because the back is stylish and ergonomically designed to fit the user. Whereas gaming chairs can be less forgiving and more restrictive.
Round 3: Arm Configurations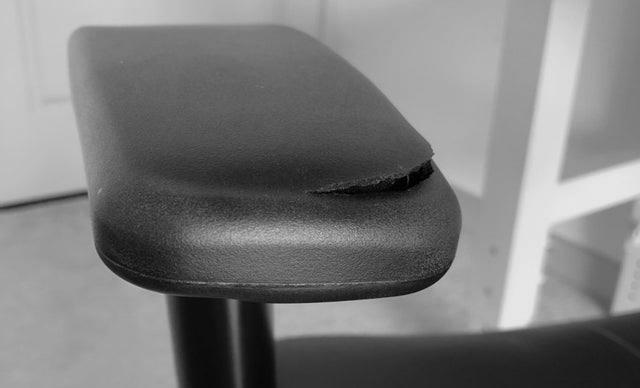 The foam on most Gaming Chair arms is prone to splitting
Above: The foam on Gaming Chair arms tends to split with repetitive usage
Gaming Chairs: Most Gaming Chairs have fixed hard plastic arms except for the higher end Gaming Chairs which can have adjustable padded "4D" arms. You'll find that most components on a gaming chair look very similar to other Gaming Chairs and are generally made with cheaper components. In comparison it has to be said that less expensive Office Chairs have adjustable padded arms as standard because ergonomic chairs have been specifically designed over many decades of research starting in the mid 70s. Whereas Gaming Chairs are relatively new items that were designed recently with the advent of 'next-gen' gaming in around 2006.
The good:
If you're lucky you'll end up with a version with padded adjustable arms
The Bad:
Most are cheap hard plastic with NO adjustment
Quantum Ergonomic Office Chair:

Comfortable and strong soft touch 3D swivel adjustable armrests
This chair has 3D soft padded pivot armrests that also adjust up and down. Pivot armrests are designed to move fluidly with hand and arm movements to ensure comfort and versatile usage. If you frequently assume arms positions where your wrists are close to each other without the support of the desk, pivoting armrests can be highly beneficial in providing full coverage of your forearms in those positions.
The good:
Fully adjustable
Armrests pivot inwards and outwards
Soft padding to rest your forearms
The shape looks similar to a PC Mouse which is coincidental (and also ergonomic) but may help to blend in with your gaming / working set up :)
Height and rotational adjustable armrests provide superior forearm support during mouse use. For keyboard work, armrests reduce neck and shoulder fatigue
Armrests that pivot inwards are far more useful than those that pivot outwards. This chair does both
Relieve loads on the neck, shoulders and arms
Helps to promote good postures
The Bad:
We couldn't think of anything - they are extremely comfortable
Result: 3/0 to the Quantum Ergonomic Office Chair
Round 4: Neck and Head Support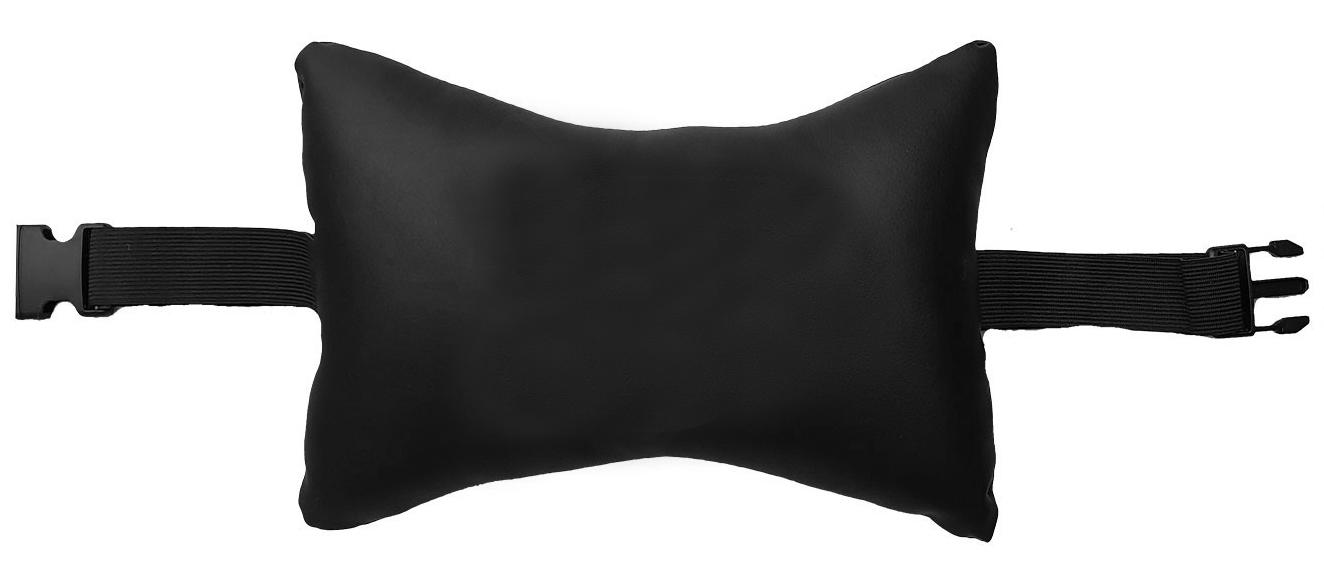 A typical removable Gaming Chair neck cushion
Above: This is a typical Gaming Chair Neck Cushion. They can be useful but they can also cause pain, it's a bit of a lottery
Gaming Chairs: Most come complete with removable neck cushions
The good:
If you're lucky the cushion will be the perfect size and shape for your neck
The Bad:
The neck cushion is a "one-size-fits-all" solution. If the cushion is too small or too large for you the only option is too remove it which defeats the object of achieving ergonomics whilst seated
You may have to buy a neck cushion more suited to your body shape
Quantum Ergonomic Office Chair: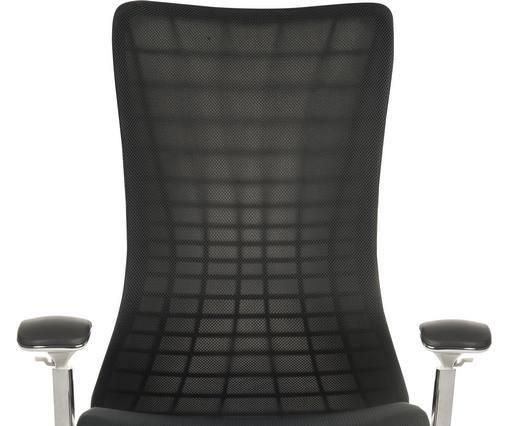 Ergonomic Mesh High Back design helps to prevent neck pain
What's great about having a mesh back ergonomic office chair is that the mesh molds to your spine as you relax which in turn helps to keep your head upright whilst concentrating. The result is evenly distributed pressure on the neck and head. It feels unnatural to force your head forward when relaxing on this chair. In the long term this chair will cause your posture to re-calibrate itself naturally (We also recommend exercises using exercise bands to also help strengthen your core).
The good:
Molds to your spine which keeps you in a natural posture with your head looking straight ahead
Evenly distributes the weight of your head
Keeps your shoulders back in the correct position. Helps to re-calibrate slumped shoulders overtime. Slumped shoulders forces your head and neck into unnatural positions
This chair has a high backrest that includes the neck of most users
The Bad:
This chair doesn't have an extending headrest if you wish to rest your head backwards
Some tall people may need an extending headrest to accommodate their elongated spines
Result: 4/0 to the Quantum Ergonomic Office Chair. This is because it is debatable that an extending headrest is needed as the posturepedic shape of the chair maintains even weight distribution of the head and torso. Couple this with the comfortable adjustable arms and you can find a position that feels natural to you. Also Gaming Chairs typically don't have height adjustable extending headrests. They only feature a solid back and removable neck cushion (Which is not suitable for all users). The high back mesh wins it for the Quantum.
Round 5: Build Quality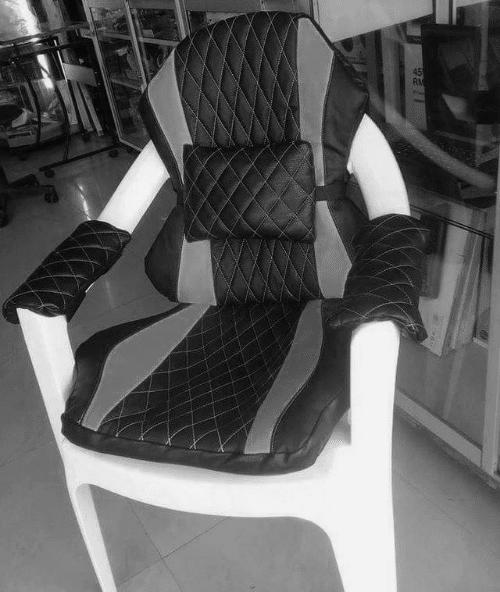 An old Gaming Chair meme just for laughs
Above: We found this funny old meme on Reddit - Just for laughs :). High-end Gaming Chairs are made from quality materials...but do they have the pedigree and comfort of Ergonomic Office Chairs? Read on...
Gaming Chairs: Most gaming chairs use hard plastics for armrests that feel rigid and uncomfortable. High-end (expensive) ones do have padded arms. They usually have heavy steel frames covered with foam that loses it's shape quickly. Unless you buy a Gaming Chair that uses cold foam that holds its shape better and for longer. Generally the castors are smaller than their office chair cousins. This can wear out your carpet which is another expense. You can correct this by purchasing a mat, but again, that's another expense. They also typically come with plastic 5 star bases that can warp and even break overtime. Having said that there are Gaming Chairs that have a max user weight of 300 pounds but they are rare and expensive (although you should absolutely go for this option or our Hercules Office Chair with 35 stone (490 pounds) max user weight if you struggle losing weight).
The good:
Strong (but heavy) steel frame
High-end versions last longer than cheaper Gaming Chairs
Cold foam has comparable performance to the foam found in race car seats (Is that really required if you play League of Legends or CS:GO?)
The Bad:
Most are cheaply made and are intended to be replaced in 2-3 years when the new "Better" version comes out
Heavy steel frame coupled with small castors = pain for your carpet or linoleum floor
You may need to buy other products to create a workable environment
Initially designed as a car seat style which is only useful in limited gaming experiences. Some Gaming Chair companies have realised this and started to create shapes more akin to Office Chairs - although they are still poor imitations of high-end Ergonomic Office Chairs in our opinion. Ergonomic Office Chair designers have been able to achieve better effects for less cost to you over decades of research and refining
They start to creak after around 6 months in most cases
Cheap stitching unless buying high-end
PU covered seats that are prone to cracking, flaking and peeling over time
Offers limited to no ventilation to the back, buttocks and legs which causes excessive heat to the body especially on hot summer days (After all you don't want to peel yourself from a chair UGH!)
Quantum Ergonomic Office Chair:
The Quantum Ergonomic Office Chair has a Strong lightweight build quality that will last
This is where the Quantum really excels. The frame and 5 star base is made of a strong yet lightweight brushed aluminium. The back and seat is made from a strong supple woven comfortable mesh. The arms use quality resilient soft padding (This is starting to sound a bit suggestive - kinda like an old M&S advert :)). The heavy duty castors are large and distribute your weight evenly over surfaces allowing for easy gliding on carpets. The overall build quality will ensure a long life for the chair. With correct usage you wont need another chair for a while. The recommended max user weight for this chair is 110kg (17.3 stone) which is pretty good. If you are over that weight we recommend our Hercules Office Chair with 35 stone (490 pounds) max user weight.
The good:
Lightweight brushed aluminum build
Strong brushed aluminum 5 star base
The back and seat is made from a strong supple woven comfortable mesh
The arms use quality resilient soft touch padding
Heavy Duty large castors
110kg (17.3 stone) max user weight
The Bad:
We got "nada"
Result: 5/0 to the Quantum Ergonomic Office Chair - FLAWLESS VICTORY!
Round 6: Aesthetics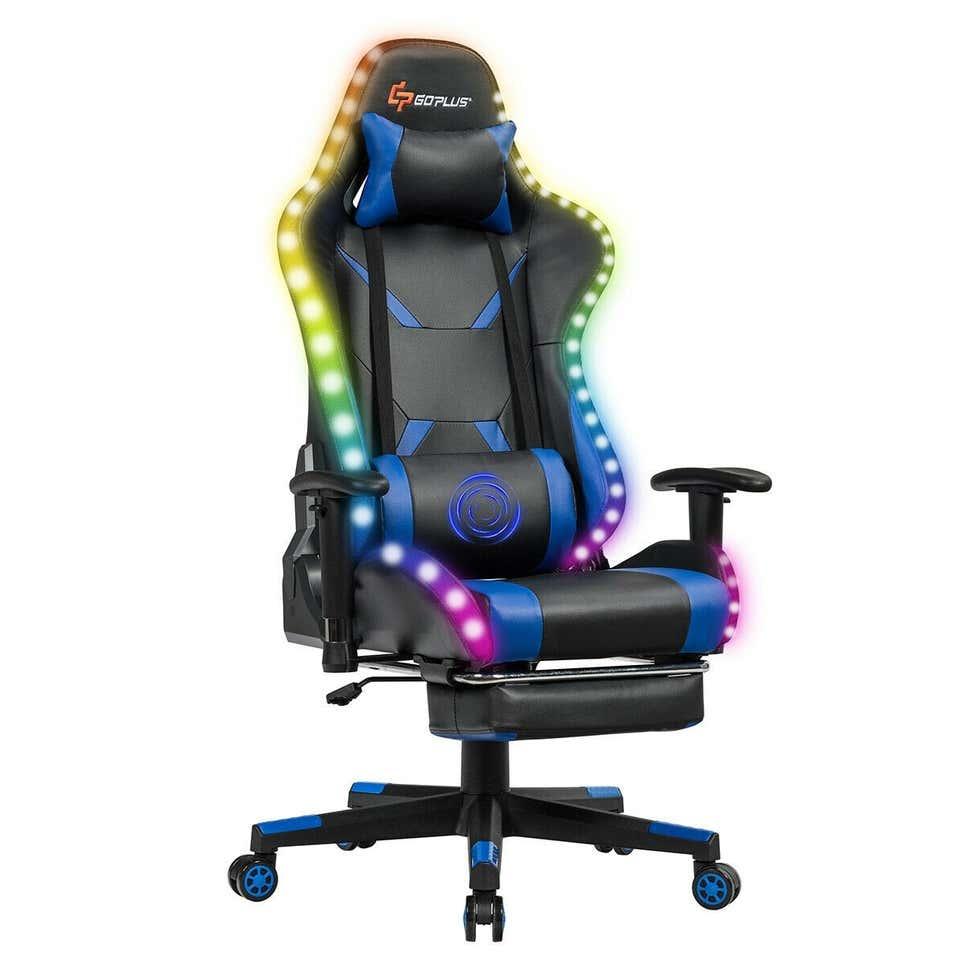 Gaming Chairs: Gaming Chairs are designed like race car seats which look cool with their winged sides and flashy colours. Some even have coloured LED lights built into them (Perfect for negotiating in a business meeting or giving your YouTube followers a seizure - we're being a little sarcastic). They often have embroidered logos and designs representing your favourite game. However this can quickly date the chair when your new favourite game is released. There are "sexy" and "badass" looking high-end versions that appeal to gamers and workers alike. We have to admit there are some good looking Gaming Chairs (But is the beauty only 'Skin deep'?). The adjustment levers on high-end versions look like paddle shifters of a sports car which is cool.
The good:
Available with designs of your favourite games embroidered onto them
If you have a racing car bucket seat style chair it creates an immersive feeling when playing. How often do you play racing games?
Flashy colour palettes are exciting to look at
Nice looking adjustment levers
Fits the aesthetic of the Gaming scene
The Bad:
We can't help but feel that most Gaming Chairs are style over substance
Quickly outdated graphics and logos
They are designed largely for faddistic users to capitalise on their licensing deals which we find a tad gauche (Whoosh?)
Generally looks tacky and out of place in an office environment. Especially unprofessional vibes if used whilst meeting new business partners (Unless you work in the games industry) - A bit unfair as some Gaming Chair manufactures do address this in their designs
Designs may not attract Executives to use them for work. This may cause the buyer to purchase 2 chairs (One for work, one for play). This approach can be impractical and expensive
Quantum Ergonomic Office Chair: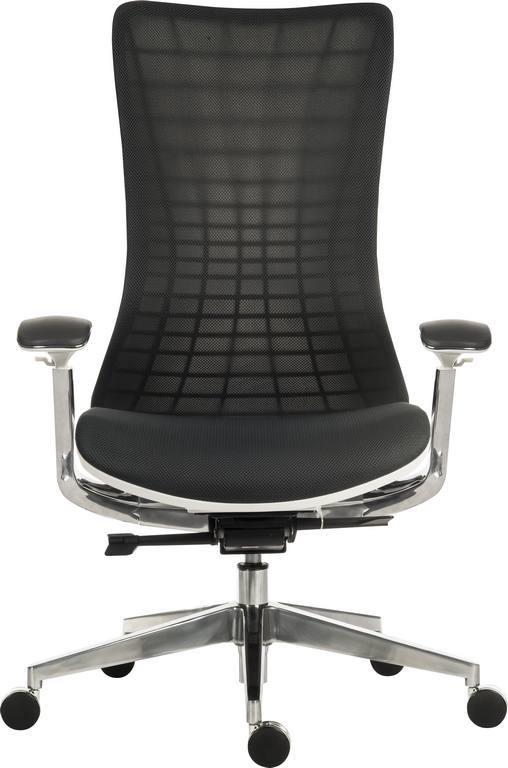 The Quantum Ergonomic Office Chair has a sleek futuristic design which looks fantastic in most Offices and Gaming set ups
This really is a fantastic looking Office Chair do you agree? To us it looks sleek, futuristic, strong, stylish and comfortable. You just know that when you sit on this chair for the first time you're going to feel a high level of comfort. Maximum comfort. It also looks professional and will stand out in your office and at your desk for all the right reasons. The people in your office and your family members at home will attempt to steal this chair from you! Too much? We don't think so. The beautiful brushed aluminium looks premium and luxury...because it is.
The good:
Fantastic looks
Professional executive vibes
Looks ideal for Gaming and Working on 'Tasks' for long periods of time with minimal fuss, *we recommend sensible regular breaks and don't forget to stretch
Looks strong and reliable
Takes up minimum space and doesn't look bulky and cumbersome
Will fit away under your desk if you lower the adjustable arms to save even more space
Universal, timeless good looks will complement any room theme and any colour scheme
The Bad:
No way of embroidering logos or incorporating game specific designs (But when you're sat on it does that really matter more than how it feels and performs?). What you see is what you get
Result: 6/0 to the Quantum Ergonomic Office Chair. We can't see how looks alone would be the main reason you'd choose a Gaming Chair over an Ergonomic Office Chair. Tee Quantum will help maintain your well being and promotes a healthier lifestyle as you work and play. Especially when the Quantum looks so good too. It's hard to ignore.
Round 7: Pricing
Gaming Chairs: Gaming Chairs vary greatly in price and quality but for a top of the range one you'll be looking at between £350 to £599.99. When you add VAT and delivery it can be very expensive.
Quantum Ergonomic Office Chair: £368.99 delivered!
Result: 7/0 to the Quantum Ergonomic Office Chair (A clean sweep!)
User conclusions and quotes
What customers are saying about Gaming Chairs:
"A lot of these gaming chairs are not "task" chairs. They are simply an office chair with value added design. A proper task chair will have the 3 adjustment levers. Combine a properly adjusted task chair with a foot rest and an adjustable height monitor and you're looking at a proper setup."
"Like most gaming gear, they just look fancy(meaning idiotic). They might or might not be quality stuff, but those looks are just for looks. I doubt that pro gamer chair is a better one than I'm sitting on right now. My chair doesn't look like it belongs in a rally car, but it was expensive as hell, and it's comfortable as hell too."
"I wouldn't want my chair looking like that. My chair lacks those wings you mentioned, but even without them I have never dropped out of my chair. Go figure."
"Just get a quality office chair. It's most likely cheaper, more comfortable, has better quality and it doesn't look lame like this gamer crap."
...their words not ours.
What customers are saying about the Quantum Ergonomic Mesh Office Chair:
"Its a great chair, very comfortable."
"Excellent product"
"Good price for such a high quality chair"
"Good value for a decent office chair, comfy back and arm rests, easy to self assemble"
"This is a great looking and extremely comfortable chair"
Our Conclusion
So where are we in our thoughts? On one hand we can choose a gimmicky fad, on the other hand we can choose an Office Chair option that has pedigree and reliability along with the best overall sitting experience. Do we choose a limited option or do we choose an option that can easily be configured to fit our body type?
We've all sat in Ergonomic Office chairs whether at work or home and a lot of us have also owned/used Gaming Chairs in the past. Ask yourself: 'Did it feel better?' or 'Did I feel a difference when I got home?' and 'Which chair was I most comfortable in for the longest time?' plus 'Did I feel embarrassment when a customer or a representative from another business visited my Home Office?'. After honestly asking yourself these questions we're betting that the Ergonomic Office Chair has won in your mind.
You may still ask 'So why not just buy the most expensive Gaming Chair?'. Our answer is simple: 'You can have an optimal set up that has better quality and will cost you less. The Quantum looks sleek and attractive. You might say it looks 'Futuristic' (For all you space game lovers). When compared to high end Gaming Chairs the Quantum Office Chair outperforms them in almost every aspect'.
Don't just take our word for it watch the video:
You can buy the black Quantum Ergonomic Office Chair here.
You can buy the White Quantum Ergonomic Office Chair here.
That's it, if you got this far thanks for reading and we'll see you again next month to compare Ergonomic Office Desks.